Millions of couples living together for a long time face such problem as monotony in intimate life. Sooner or later one of the partners may want to try something new in bed, and looking for new experiences on the side will inevitably destroy the relationship completely. That's why sex games were invented.
The thing is that a lot of people don't have the guts to share what they dream of or what they always wanted to try with their loved ones. In this case, sex games can help make their desires come true because one can always turn a sexual fantasy into a joke if the situation gets a little embarrassing. So, what games can spice your relationship a bit?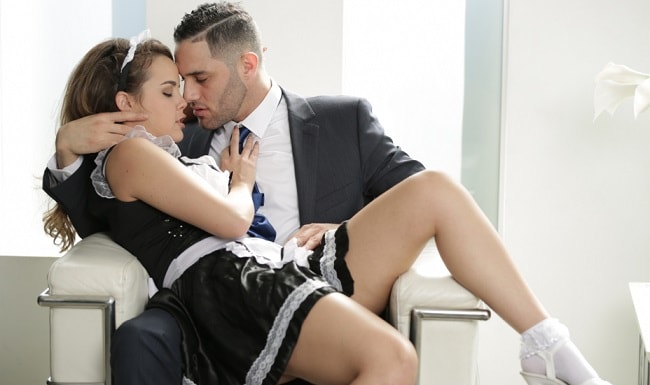 Games for couples: how it can help you enhance your relationship
New feelings and experiences are the main advantages of any sex game for couples. It's a perfect solution for those who want to escape from everyday life. New sensations and emotions you get from playing these games will bring you even closer to your partner. You can do what you never did before, but the main rule here is to stay natural. It's the only way to feel the emotions and desires of each other and find out what "buttons" to push to help your partner reach the maximum pleasure. So don't be afraid to experiment and make changes in your relationship. Erotic and fun games for couples will allow you to release your sexual energy, make sex more affectionate, and add playfulness to your romantic mood.
Why do you need sex games?
Erotic games aren't only about expressions of sexual emotions. With their help, you can diversify your intimate relationships, wake up your passion and interest to your partner once again, understand the needs of your body, and bring the most intimate dreams to life. They give an opportunity to find out what your partner really expects from you in bed.
The most pleasant thing in erotic games for couples is that they don't have winners or losers. It's not a contest for showing erudition, intellect, speed, or other skills. The main prize goes to both participants. It's important not to be shy about expressing sexual desires and emotions. There are no limitations in such games, except those established by the partners themselves. You can do anything that brings pleasure to both of you because that's what sex games are for.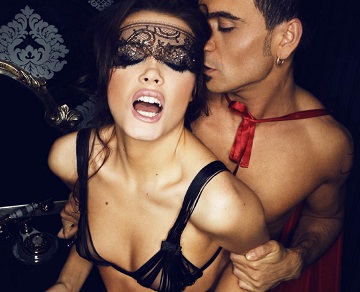 What sex games give
Pleasure. Sex games, especially role-playing ones mean another kind of sex and sensations.
Bringing your fantasies to life and restoring your nervous system as a bonus. According to Freud, non-fulfillment of sexual desires leads to neuroses.
Strong relationships. If partners get what they want at home, then there's no reason to seek sexual adventures on the side.
Strengthening of mutual understanding. Sometimes it's difficult to share your secret desires. After all, they're the innermost thing in our minds. Talking about them makes relationships last longer.
Why sex games may be dangerous
Sex games are the most innocuous form of non-traditional sexual relations. But there's one thing you need to know. Every sex game is a fantasy world that can consume you so much that you won't be able to get sexually aroused without them. And if your partner gets bored of these games, you can forget about sex at all. So when choosing games for couples to play, remember that they shouldn't become the basis of your sexual relationship.
When playing more perverse games, one partner may lose the sense of proportion and hurt or humiliate the second one too much, and this can damage a relationship badly. And if the second partner loses the sense of proportion, even a light slap can offend them or make them mad. So try not to lose your sense of proportion, unless you play innocent question games for couples, like truth or dare.
Some games can be quite sophisticated and require certain props. For others, you don't need anything but the desire to please your partner. Here are the best games for couples to play in bed.
Sex games for couples: make her your sexy teammate!
Let's start our list of sex game ideas with ones that don't require almost any additional props. Most of the stuff you can find at home.
A blind kiss
This game is pretty simple, but it doesn't mean it's boring to play. One of the partners is blindfolded. He or she holds hands behind the back (according to the game's rules, you can't use them). The second player does any pose he or she wants and tries not to make a move. Then the second player names the parts of the body the first one needs to kiss. This can be a bit tricky because navigating with your eyes closed is hard. The game continues until the blindfolded player does what he or she was asked to do. After that, the partners change roles. The game can last long.
The beach
That's another fairly simple sex game for couples, which, however, can bring a lot of pleasure. Spread a wide beach towel on the floor. One player rubs the partner's body with a massage cream or lotion, trying not to miss any spot. Such gentle and at the same time sensual massage will make the skin more sensitive to caresses. You can rub each other at the same time, complementing the process with kisses.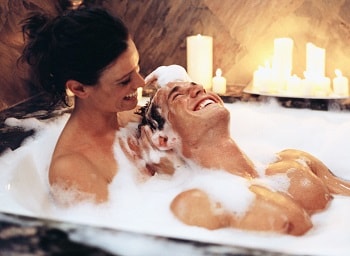 Guess what I think
One of the players makes a sexy wish. The second player looks into the partner's eyes and tries to guess what she or he thinks of. Both players can't say a word. The one who guesses begins to caress the partner, watching her/his reaction. The first player can point the second one to the right direction with a smile or slight movements. Partners change roles after the second player fulfills his or her partner's wish.
This game for two is a great way to fulfill the erotic desires that both partners are too shy to share with each other. They can also discover some new sexual preferences of each other to make sex even more pleasant.
Magic deck of cards
It's one of the sex games to play at home if you're bored. You need to take a simple deck with an even number of cards in it. Both players divide the deck into two parts: black and red. The number of black and red cards should be equal. The girl takes herself the red half of the deck, and her partner takes black. Each card means some kind of erotic desire. You can write them down on a sheet of paper or on each card separately. For example, an ace of hearts is a French kiss, a king of hearts is a striptease, a queen of hearts is a massage, etc. Give some freedom to your sexual desires and don't limit yourself to ordinary caresses because indiscreet fantasies will make the game much more interesting.
Shuffle the cards and drop them face up. Players pick one card per turn. If the girl picks a card of a black suit, she fulfills the desire of her partner. Her companion, accordingly, fulfills the desire of the girl, if he picks a card of a red suit. If one of the players draws a card of their suit, the next one picks a card again. This one is probably the most interesting sex game for couples, which doesn't involve role-playing or a complicated scenario.
Dressing games, or role-playing erotic games
Such sex games for couples are the best for reviving intimate relationships. Some people find them too stupid or complicated because they require a lot of preparations. But in fact, it's all about embarrassment or the fear of looking ridiculous. But mostly, they're afraid that their partner won't support their sexual fantasies. Therefore, mutual trust and willingness to play along to each other are the main conditions for role-playing sexual games for couples.
Sometimes those who actively practice sexual role-playing games, even enjoy selecting props, fulfilling their most rampant dreams. You can start with ready-made scenarios. Later, when you understand whether such games fit you or not, you quit practicing them or come up with your own erotic scenarios.
Teacher and shy student
This is one of the best sex games for couples that involves role-playing. In this game, the couple plays the roles of a naive and shy student and an experienced teacher. The game requires appropriate clothing and some attributes of an average classroom, like a table, textbooks, a pointer, etc. You can start with innocent touches and kisses and gradually move on to something bigger. You can play for several days in a row: the teacher gives the second player a "homework:" for example, to master a new sex position and then check if the student succeeded in this task.
Maid and lodger
Another popular scenario for role-playing games for two. A cute maid without willingly fulfills all the desires and whims of the man. For a maid costume, you need a white apron and a dustpan. You can play an alternative version of the game: the modest maid does everything the lodger asks timidly and reluctantly at first, but then she starts to have fun, submitting to the man completely. This is one of the most passionate sex games for couples in bed.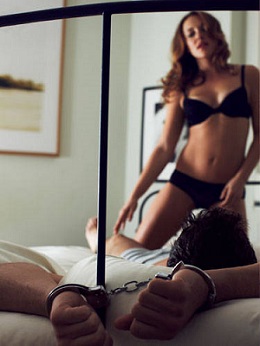 Courier and customer
The man plays the role of a courier, while his partner is the customer. According to the scenario, the woman orders some toy from the sex shop. She offers the courier to check the quality of the product, and he readily agrees. Unlike previous scenarios, this game doesn't imply an explicit dominance of one of the partners. No special costumes are needed: some casual clothes (a T-shirt and pants for a man and a bathrobe for a woman) should be enough. Some couples may already have the necessary props (toys from the sex shop). But even such couples need to buy something new to bring an element of novelty into their relationship.
The movie star and paparazzi
The plot of the game is as follows: a famous actress in an evening gown and sexy underwear returns home after filming, and the paparazzi hides behind the curtain or chair with his camera. The actress starts to undress and notices camera flashes. Then goes a small scandal, but the photographer turns out to be handsome and charming, and the star allows him to make a couple of erotic pictures. Gradually the photo shoot becomes more and more passionate. Just make sure you both do everything sexually. Games for partners like this one make your imagination more vivid.
You can modify the scenarios, changing the details of the stories, adjusting to your tastes, desires, and dreams. For example, in the "Courier and customer" game, you can "confuse" the address and deliver the order to an unsuspecting housewife who has no idea of how to use the toy you brought. And don't limit yourself only to these scenarios. There are a lot more sex games to play with your girlfriend online.
In conclusion
Couples who try new erotic games never get bored with each other. And this means that their relationship stays healthy. Discover yourself from the new side - the power of game therapy has always been the No. 1 medicine for broken relationships treatment. The pleasure that you'll get together in the process will give you an incredible surge of energy and joy. If you're ready to go a little further, order a sexy board game. This will definitely make you liberated.