Content:
Do you know what is sexting? The definition appeared in New Zealand in 2005. It means the exchanging of personal photos and messages that have sexual content via modern means of communication.
Today, you can hardly imagine your life without gadgets, they've literally become part of the modern world. It would be strange if people did not use them in the intimate sphere. Therefore, it is easier and much more interesting to send sexting messages, having accompanied the words with a piquant photo. According to the Kinsey Institute research, more than 67% of adults around the world keep sexting conversations with the partner. 5 years ago, only 21% of those surveyed admitted to such a hobby.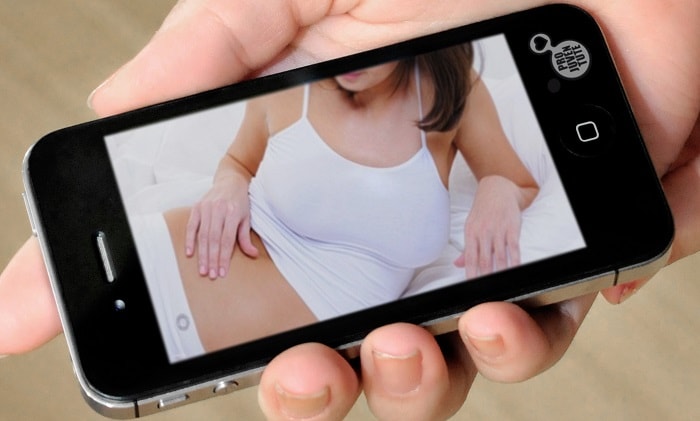 Sexting becomes more popular and is recognized by the people as a normal phenomenon, which can be a new step in sexual or romantic relationships. Researchers have interviewed more than 140.000 people from 198 countries and have found that the USA residents (74% of respondents) are addicted to sexting most of all, and the residents of Japan and South Korea almost don't do it. At the same time, most participants prefer to be involved in skype sexting, and 38% of respondents are engaged in snapchat sexting.
In addition, the researchers have found that about a third of adults use dating applications and only 20% of them are looking for a one-night stand. The most active users of such applications live in Sweden. Is sexting cheating? Everything depends on your progressive views on life. If you believe that cheating implies only physical contact, then sexting doesn't involve physical sex.
It is difficult to imagine a girl's serious face when she is involved in sexting. Most girls smile in vain attempt to make at least one sexy photo. No matter how absurd you feel at this moment, you need to master the art of sexting if you dream of a long and happy life with a partner.
2.000 participants have answered the question about sexting messages, "How do they affect your sexual life?" According to the research, most often women (57%) are ready for sexting if they are in a long-term relationship. Only 6% of participants would agree to such an experience with a one-night stand. The researchers have found that "breasts and nipples" is the most popular option among women.
According to the final part of the study, it can be said that those who practice sexting daily can boast of a rich sexual life with a partner. Naturally, scientists have asked how exactly it influences their passion. 35% of people have said that it helps turn on, and 30% have admitted that it helps keep being excited.
As soon as sexting became a common thing, it got immediately many critics. Someone has said that technology takes away the imagination and the desire to become closer offline. Other people have argued that it is beyond the pale. However, both opinions are just a nonsense if you use sexting wisely.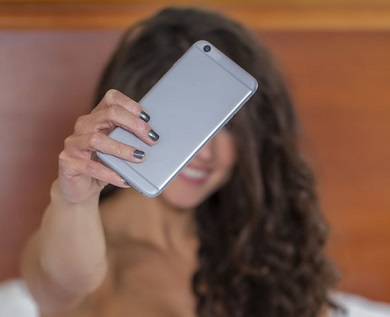 Firstly, who has said that you should send immediately your naked full-length photos from every angle? You need to practice the technique of creating sexual selfies and hot, but not sexually explicit pictures. You should learn to cut short a picture to the most interesting moment to make your partner use her fantasy and get excited.
Secondly, not everyone knows the art of writing, this also applies to personal correspondence in social networks or messengers. And you need to learn that actively because at least 60% of the communication of modern man falls on the correspondence. Sexting messages can help you intrigue a loved one, heighten her interest or just steer a conversation in the right direction. It minimizes the distance between the partners.
If you still doubt the importance of sexting, think about the couples who are in the long-distance relationships. Often, lovers break up because they grow apart being for a long time in different cities or countries. Sexting helps them not only communicate but also feel sexual desire.
In a long-term relationship, people daily write messages to their partners to remind them to buy milk on the way home, pay for an apartment or take a dog for a walk. They use their gadgets only for this reason. However, online communication does not have to be formal and boring, especially when it comes to sexual relationships.
There are 9 most common ways that will help you improve your sexting adding some spice to your sexual relationship.
1. Download the keyboard with the GIFs. PopKey app is suitable for iOS, and those who use the smartphones on Android can download Riffsy. Now, you are able to send encouraging and funny GIFs to your partner all day long.
2. Take and exchange selfies. To send a selfie is faster than to type a message. In addition, it will allow the partner to see your mood right now.
3. Use secret emoji. Emoji sexting can also be useful, just agree that one or more emoji will have a sexual innuendo. You can use the classic ones or come up with your own version, for example, if you have animals that interfere with your pleasures, you can use emoji with them.
4. Create your own collection of erotic stories. You can come up with a beginning of the story and send it to your lover. And she will continue the topic if she wants to keep it. It is interesting, it develops imagination and turns on.
5. Exchange photos and videos. You can shoot yourself in Snapchat, take an erotic photo or even shoot a small video of what you are doing now. Just make sure that your loved one is not at the business meeting, and do not forget to add NSFW to it.
6. Be careful. Do not forget that in some applications, such as Hangouts and Facebook Messenger, unread messages continue to take the whole screen. Use some other secret applications for your sexting.
7. Raise your sexting to a new level. The Internet is full of tips on how to improve your sexting, there are even books telling about it. Just do not forget to open your sexual messages being alone and put the phone on the lockdown when it is out of reach.
8. When in doubt, choose a simple way. It is not always necessary to send emoji or GIFs. You can write a simple text message that does not require a response. If you want to say a few words of love, write about it without worrying about the response.
9. Do not leave your partner unanswered. Do not interrupt the conversation at its very height without any explanation. You cannot treat a person to whom you are not indifferent this way. If you do not immediately realize that you have upset your partner, do not forget to apologize later and/or explain what has happened. Taking responsibility for your behavior, even in such insignificant things as messages, helps build a trusting relationship.
Sexting conversations with your girlfriend is a test for anyone who does not make a living by writing scripts of criminal programs. Nonetheless, sometimes, you cannot do in the relationships without interesting sexting ideas, especially in long-distance ones.
If you take into account all the sexting tips for guys and become good at this difficult genre, then you will even begin to enjoy it so much that you decide even not to return from a business trip. So, look at some sexting tips and rules of successful sexting conversation.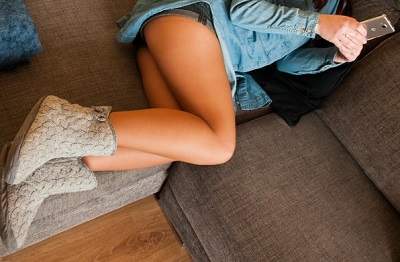 How to initiate sexting?
Start with your shared flashback. The best way to start an exchange of sexting messages is to turn to a shared sweet flashback. Don't write her something like that, "Remember, we were going to visit your parents, but your mother got sick, and we stayed at home." It will not do, and it doesn't matter how sweet the continuation of this flashback will be. The flashback must be purely erotic, "Remember that rainy evening in May, when you were lying on your belly and reading a book, and I came quietly to you, slipped on the banana peel and fell on you, after which we ..." So, you take the playful approach and take the first step towards exciting the girl.
Change the pace
Alternate sexually explicit messages with more neutral ones. Ask questions, mince words, and then write directly where and how you kiss her and in what position you want to make love. And then again return to questions and playful teasing. When a girl does not know what to expect, a play becomes only more interesting. One of the good sexting examples is, "3 cold showers and I still can't get you off my mind."
Remember that this is a dialogue and not a monologue
Have you felt all your life that sexting is your vocation, and you are ready to use the words "hot" and "taut" without taking a break? Be careful and remember that sexting is not a monologue but a dialogue. If you describe how you bite the heel of a girl, and the girl responds, "I have got you back to bed and ridden you," then stop biting the heel and tell her that you are in bed. Otherwise, you will get the cacophony of sexual requests.
Send her half as many pictures as she sends to you
After all, you are a man, and theoretically, you should be less self-centered than a girl. So, try not to send too many photos of your wonderful abs and amazing ass. In sexting conversations, there is no place for male inflated ego. With the endless number of your photos, you will make the girl think that, perhaps, she has started a relationship with an unemployed actor in vain.
Do not send a photo of the penis until she asks
Many men consider for some reasons that sending a photo of their penis is a perfect way to impress a girl. It doesn't look so great as you think. So, just don't do that. Unrequested photos of the penis are a traumatic sight for a romantic female psyche. The only exception is when the girl asks you to send her such a photo.
Express your admiration for her photos
Do you want to encourage the girl to new photographic horizons? Express your admiration for every photo she has sent to you. If you are too lazy to write, "You are so amazing!!!!!!!!", "Your hand is just perfect!!!!!!!", just write "!!!!!!!!!!" as if you are completely speechless with excitement.
Don't forget about real life
Sexting is a good and pleasant thing, especially when there are no limits. However, you should understand that you can lose the trust of your soulmate by getting pleasure only from sexting messages. In addition, do not forget that sexting can cause addiction, so do not make such entertainment the main meaning of life. For example, do not be engaged in sexting for more than 10 hours a week, try to have sex offline with a real person as well. In the worst case, you will lose interest in real girls, and sexting will be just a sure way to deal with stress. If you overdo with it, sexting will be a problem that only a psychologist will be able to solve. The reason is simple, it's a pleasure that you can get everywhere, from home to a store or the workplace.
Now that you know the basic rules of sexting messages for her, let's look at some other tips that will come in handy in sexting.
Masturbate
If sexting is moving in the right direction, then you and your partner will begin to slowly take off your clothes and touch yourself. If both of you like it, it can be a lot of fun and exciting. Just tell them what you would do, what you are doing now and what you would do together.
You just need to relax and send intimate messages until you both have an orgasm. You can say: "I want you to [verb] my [body part]." So your sexual experience will become more real. Tell them how you feel during your sexting - describe all the sensations, even what you feel with your fingertips.
Imagine the person with whom you are sexting
Mutual masturbation is fun, but having sex is a lot nicer. If the conversation is moving in this direction, you can simply ask your partner if they want to visit you or whether you can come over to their place. Here's what you can say:
"I'm trying to imagine how you look, but I would rather meet with you."
"Why don't you get into my bed? I want to check whether it will be as good as I imagine."
"I guessed the color of your panties. But how do I know it's true?"
"Why don't we continue this in real life? I want my hands to do something other than typing messages."
"Maybe I should come over to your place? It will take a minute. If you, of course, do not mind."
End the conversation
Whether you end the conversation because you agreed to meet, or because you got everything you wanted, you need to be delicate. You can just say that you have to leave. Whatever the reason, be gentle and maintain a sexy tone even at the end.
Don't just say "bye" or "see you" at the end of the conversation. Say: "I can't wait for your next message", - or: "I will text you on another hot, lonely night." Make your partner think about you and crave another time you are going to enjoy some sexting.
Do not switch to a non-sexual topic at the end of the conversation. Do not say something like: "By the way, are you going to Jessica's birthday tomorrow?" Ask about it later. If you end the conversation because you will meet in person, just say: "I can't wait for us to continue this conversation live," while you will go to their house.