There are hundreds of kinky sex positions for each time of day and every couple out on the Net. Tons of ideas for quickies, various tips on how to make your orgasm last longer, positions for definite penis sizes, Kamasutra sex positions to hit that G-spot just right and, finally, oral sex positions Kamasutra can propose. But after all, there are those poses that take things up to a whole new level, make both partners curiously raise an eyebrow and take you out of your comfort zone. Those are the real Kamasutra positions to dispel all your notions of delight, because sometimes going out of the frame of your routine sex life can do real wonders to your relationship in general.
Wish to freshen things up in bed with some hot Kamasutra sex positions? From the well-known doggy-style to the "Catherine wheel", here you got an ultimate manual to Kamasutra best sex positions for both partners, set out from the point of view of our wonderful girls. Now run through this article and you'll thank us later!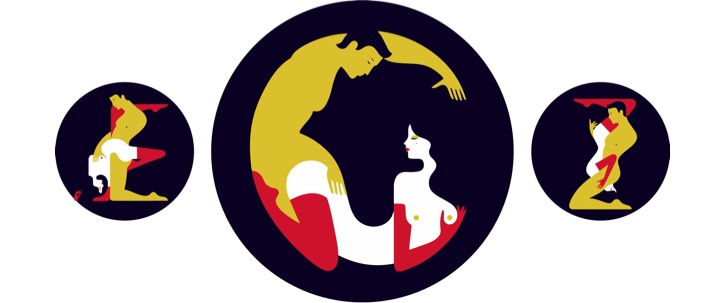 Origins of the "Love Bible"
The eldest and the most famed sex tutorial in the world, the Kamasutra or the Love Bible, was supposedly composed in India somewhere around 400 BC and its literal translation is a "tractate on pleasure".
Containing over a hundred different poses followed by graphic illustrations on how to accomplish them, it is the most full-scale sex manual in human history. And who does not want to spend a mind-blowing night with a loving partner using various kamasutra positions?
Yet focused mainly on woman's pleasure, tips for females on maintaining relationships with their men together with the in-depth techniques for men on how to keep their women satisfied to prevent her from escaping with a more experienced guy, bet it might also be the world's first and only Sex Bible for feminists.
We asked our beautiful women about the top 15 best sex positions kamasutra can teach a loving couple to enhance their intimacy and work so well especially for women. Whether you're in a committed relationship or looking for closeness with no strings, these will bring you to the edge of enjoyment.
Kamasutra sex positions to try for ultimate pleasure
1. In the armchair
Start with getting a chair, stable enough. For sure, you wouldn't like to end up on the floor simply because you decided to take your granddad's century-old antique rocking chair which he left in his last will. After that, make your man sit as he would normally sit in an armchair, then get on top of your partner facing him or, if you want anal entry, sit on him facing away. Of course, this also involves you guiding your man inside you.
2. The sofa brace
Although it may be called the sofa brace, do not suppose this kamasutra sex position should be practiced only on a sofa. This pose is so universal, you can actually do it anywhere you want - on the stairs, with you kneeling down or leaning on the stair above you as your man penetrates you from behind.
Try having your man sit on the edge of a couch, as you slide up and down over the lover's penis. Making love on the sofa, rather than in bed, is an uncomplicated way to diversify your sex routine, primarily, by escaping the bedroom's walls. Extra tip: you can also turn this pose into a base for some kamasutra oral sex positions.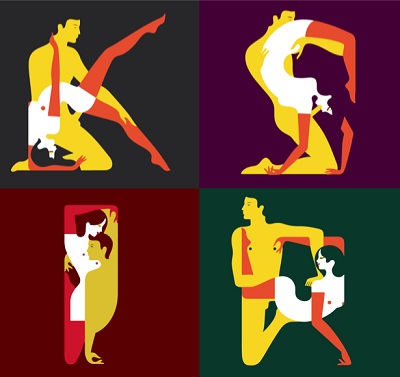 3. Puzzle
Your man sits and spreads his legs and you have to lay and lean on elbows between the man's legs and your genitals in tight contact. Lift your legs placing them on a partner's shoulders reaching behind his neck. This pose is one of the sexiest kama sutra positions as it is super pleasant for both male and female partners.
4. The Three-Legged Dog
Exclusively for those lovers who believe that having sex standing up isn't tricky enough on four legs. Be careful with it if you are not really confident to hold the balance. However, if both you and your man have a perfect sense of balance, a wardrobe or a wall to support you, all what's left to do with this sex experiment is to face each other, lift one of your legs and let your male partner penetrate you from this standing position.
Hint: if you place your leg in the crook of his elbow, it will give you a little bit more balance, too.
5. Woman on top
You know what? Guys absolutely love it when a woman is on top. Firstly, it lets them fully relax and share the work with a girl. Secondly, the bottom view is so exciting! Finally, well, aren't those two reasons enough? Body insecurity is one of the most common reasons most women happen to avoid fully embracing being on top, going a little wild and taking control.
Woman on top is, perhaps, among the easiest kama sutra sex positions as it doesn't require any special skills. Keep in mind: don't go too fast just because you expect it to result in the more passionate sex. Sometimes starting slowly and softly moving your body up and down so he will feel like you're putting him in and out can be a truly deliciously torturing experience for both your man and you. This sex position is a tremendous turn on in so many ways for men and women. If you wish to really make him go nuts, set loose all of worries you might have about your body and dive into the ocean of delight. Once you dare to try out this position, you will free your mind and give him sex that will make his brain shut down and his body react.
6. Standing
Some of the standing kamasutra positions are spectacular for spicing up your nights of closeness when you desire to have more physically energetic intercourse with your boyfriend. Another decent thing about making love while standing up is that you don't need a bed. You'll find that really useful and perfect when you want to make it around the house and somewhere else.
Begin with your partner standing right behind you, just bend right on over so he could enter you from behind. If you can freely reach the ground with your palms for some additional support, that will definitely work to your favor. In case if you're not that flexible, you can put your hands on your knees for a steady posture.
7. Sideways
One of the commonly practiced sex positions kamasutra comes up with. To make this position work, allow him to bring you to the edge of the bed and place you on your side. As he gets into you, one of your legs will remain lying on the bed while the other one will be temptingly placed on his shoulder.
You will be laying there, your breasts in his full view and your body in a very flattering position (because you are lying down). You can reach out for his hand and grip it tighter once the sexual tension intensifies. This is going to probably make him more aroused since men receive a real self-esteem boost when they see their women feel so much pleasure!
8. Prone sex
If you find pleasure in being led rather than setting the pace, let him climb on top of you and believe it - this will be a delicious position for you. You will be lying on your stomach and your partner right above, on top of you. He will enter you from behind.
As your man penetrates you from behind, don't hold back. If you feel like screaming as he does it, release your emotions. If it feels best when he enters slowly (it will tease the holy ghost out of you) tell him how horny you are at the moment. You can even tell him to kind of slide in and out, gently teasing you as you get wetter and wetter. He will feel how aroused you are and when he does a full penetration, it will feel so insanely crazy you won't know what to do with a burst of emotions. P.S. Amid all sex positions of kamasutra, this one is highly pleasurable for both lovers. Plus his hands are totally free to touch your clit, which will brighten the intercourse even more.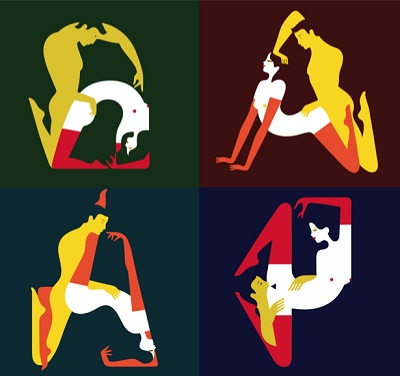 9. The Curled Angel
Out of all kamasutra sex position names, this one's romantic as hell, don't you think so? Anyway, in order to get all the possible delight you must curl up into a ball with your knees drawn up to your chest, while a partner enters you from behind. This position is ideal if you're feeling a little lazy and it is also a great fit for pregnant women as well. Pregnant woman simply has to lower her legs to accommodate her growing belly.
10. The Basket
A guy sits with one of his legs stretched out and the other one bent at the knee to add to his balance. You sit down on his lap. While you can wholly control most of the movements, he also has some control over the situation with his hands on your hips. It is also an ideal position for him to kiss and caress your nipples while having sex. Pure pleasure!
11. The Double Decker
The double decker is the perfect sex position for when you are not really sure which position will work best for you. While your partner lies on his back, you make yourself comfortable on his body with your back facing him. You can support yourself on the elbows, either side of your man's waist and to help yourself balance, you put your feet on the partner's knees.
12. The Backward Slide
Have your male partner sat on the edge of the bed with his legs hanging down freely and a soft cushion behind his back for support. You take a seat astride him and bend your legs until your knees are level with partner's shoulders. Then you carefully lean back and rest your hands on the floor, either side of his feet, to gain balance.
13. The Catherine Wheel
Both partners sit down facing each other. Then hold your legs folded around his waist while he enters. He then puts his leg over your body. To maintain balance you can lean on your guy's arms, while a man rests on his elbows. Honestly, quite a tricky sex position to master. But you'll succeed!
14. The Rowing Boat
One of the best ways to experience this position is with a man laid back and yourself sitting astride him. Once he is getting inside, he can slowly take a sitting position, so you will be facing each other with your legs intertwined. For some additional comfort you can both slip your arms under each other's knees.
15. Fusion (Scissors)
Tell your man to lie down on his side. Then he lifts the upper body on his elbow with his legs bent and driven apart. You lay on your back, stretching your leg out along male partner's body and the second leg thrown over his thigh in between of his legs. With one hand you hold the male partner's knee, and he, with his free hand caresses the crotch of his girl.
So, if you and your lover are bored with the routine sex life and searching for some ways to make things in bed brisk again, then the following kamasutra positions are totally guaranteed to awaken the passion in your bedroom so you can fall in love with your beloved half like for the first time once more!